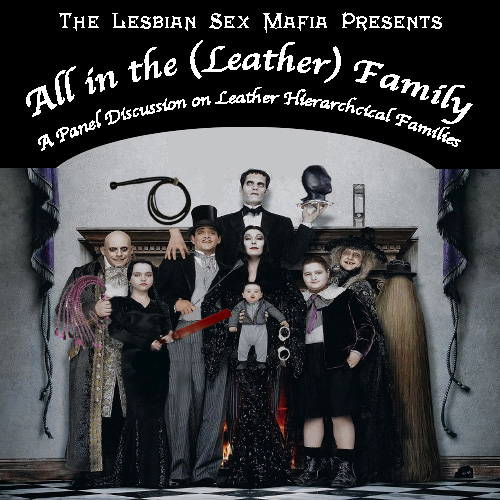 Within the BDSM subculture, the words "leather" and "family" have a variety of meanings and constructs. We've gathered members of several households to share their insights and experiences with these types of hierarchical households. Panel members are from a podcast "Structured by Design" where a variety of M/s topics are discussed openly with very little edit. This event is for those who are curious about what drives people to seek these type of dynamics and structures as well as how one goes about creating and maintaining a leather family. There may also be some myth busting about what a hierarchical leather family is not! This discussion will be moderated and questions will also be taken from the attendees.
Panelists Include:
Master Kaddan
I have had more than 30 years in the Lifestyle. Beginning by "training from the bottom up", I became the third generation of my Leather Family's line, now heading a Household with a mix of baby girl, gurl, slaves and property. I have used the virtual platform, Second Life, to facilitate lifestyle-related discussions at my education-focused Master and slave venue, The Art of Submission (AOS). I am an Associate in Onyx Northeast, a presenter at TESFEST 2016, LLC XXI 2017 and CLF 2017. I am currently working on an educational project with Master David Walker.
Sir Raven and Jade
We are a Master/slave couple, with a heavy slant in the direction of Owner/property style and operate within a consensual, non-consent dynamic. Sir Raven is a life-long New Yorker and Jade is a former Floridian. We have lived together in CNC, O/p, and M/s. relationship/ dynamic for five years, 24/7. Like all things our relationship continues to change and grow.
Sir Josh and Rosanne
Sir Josh has been part of the NYC BDSM scene for the past 8 years and has been doing fire play for 7 of those years where he has experimented and refined his skills at sadistic fire play and cupping. Rosanne has been Josh's slave for 8 years. They have both worked with NYC TNG, MAsT:MetroNY and TES. Sir Josh is currently volunteering for The Leather Heart Foundation as well as participating in a podcast on Structured M/s Dynamics called "Structured by Design".
When: Friday, November 18th, 2016
Where: LGBT Community Center, 208 W. 13th St, (bet. 7th/8th Ave) NYC
Members $5 – All others $10
This is LSM's annual all gender meeting, open to Women, Men, Trans and Gender Queer
Coming up at LSM
Saturday, December 17 – The Lesbian Sex Mafia Holiday Play Party! Celebrate the holidays the LSM way…
Friday, January 20, 2017 – Toy Bags Unzipped and New Member Orientation – Bring your toy bag and see what toys others bring with when they go to play and how the transport your kink in a vanilla world. The orientation to become full members of the Lesbian Sex Mafia.
About Lesbian Sex Mafia
Lesbian Sex Mafia is a social and educational organization for women and trans folk who have a positive personal interest in BDSM with other women. Our tenets are safety, consensuality, confidentiality and the right of women to explore their sexuality as they choose.