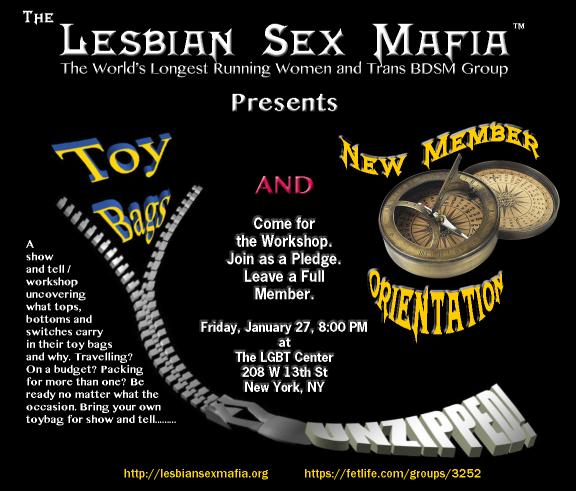 Toy Bags Unzipped! A show and tell workshop uncovering what tops, bottoms and switches carry in their toy bags and why. Traveling? On a budget? Packing for more than one? Be ready no matter what the occasion. Bring your own toybag for show and tell.
and
New Member Orientation. Come for the Workshop. Join as a Pledge. Leave a Full Member.
Current members will also be able to vote in the board election.
Date & Time: Friday, January 27, 2016, 8:00PM (Member pledges, please be on time, or credit will not be given for the member orientation.)
Location: The LGBT Center, 208 West 13th Street (bet. 7th & 8th Ave.)
Cost: $5 members; $10 nonmembers
This event is open to all women, 18 years of age or older, including transsexual and intersexed women who live their daily lives as women and all female-born transgender people who feel they have a connection with and respect for the women's community.
Lesbian Sex Mafia (http://www.lesbiansexmafia.org) (LSM) is a social and educational organization for women and transfolk who have a positive personal interest in BDSM with other women. Our tenets are safety, consensuality, confidentiality and the right of women to explore their sexuality as they choose.