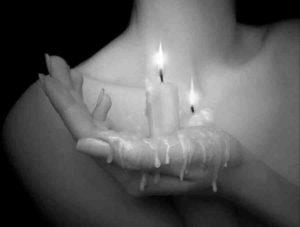 The cool touch of ice melting under the heat of desire, the fire within. These natural elements can lend their varying temperatures to create moments of pleasure and connection. In this workshop, we will explore the harmony between hot candle wax and ice water along these body points to stimulate sexual energy. Liz will delve into various energy points on the body and their natural sensual response to temperature and touch, including the root chakra. The root chakra is the foundation of the human energy system and the base of pleasure and bliss on the body. We will harness the energy pathways that flow throughout the bodies and can lead to sexual connections between partners. We will also cover candle wax safety for safe practice at home.
Friday, April 28th, 8:00 pm
At the LGBT Community Center
208 W 13th St, New York, NY
$5 Members, $10 Nonmembers – We now take credit/debit cards!!
Our Presenter:
Liz is queer femme is a long time member of LSM. She believes in the stimulation of women, by any means necessary. She is currently the LSM's Webmaster.
[contact-form][contact-field label='Name' type='name' required='1'/][contact-field label='Email' type='email' required='1'/][contact-field label='Website' type='url'/][contact-field label='Comment' type='textarea' required='1'/][/contact-form]