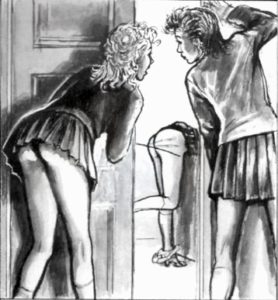 Date

&

Time:

Friday, May 19, 2017 · 8:00 PM –10:00 PM

 

Location:

208 W 13th St, New York, NY   @ map

Cost:
$5 Members, $10 Nonmembers
In the Victorian era and the British school system, caning was traditional for severe punishment. This makes for good role play opportunities. Canes are very scary – even just the threat can terrify your bottom. But caning can be sensuous as well and, with finesse, you can have your partners begging for more. Some bottoms can actually come from being caned. We'll cover selecting a good cane, care and techniques as well as some role play and ritual.
Lolita Wolf, native New Yorker, discovered the BDSM scene in the late 80's when online meant telephone sex lines. She spent a bunch of years on the board of LSM and is a former Chair. She is a published expert on Caning having written the chapter on spanking, caning and flogging in Tristan Taormino's Ultimate Guide To Kink.
Featured in the NY Times One in 8 Million series: http://ow.ly/29wtz
Lolita's website: www.leatheryenta.com